---
---
Words By Brian Krans
Photos by Brian Krans unless noted
Bruce Bales of Bettendorf, safety air (Photo by Gary Krambeck, courtesy of the Moline Dispatch Publishing Company.)
Bruce Bales turned in $21 for his registration fee and registered under the name "Bumblebee Bales." The extra dollar was a donation to the pot, he said.
However, I call it the karma dollar (not that karma can be bought).
Bruce normally dreads skating Davenport's park because of all of the little kids who always get in the way. Saturday, everyone got a good glimpse at what he could do when the path is clear.
The 2009 River Rumble was crazy awesome, in my opinion. Skaters from Iowa, Illinois, and Nebraska went tech and buck over every inch. Ages ranged from 14 to 42.
Dante Muse of Des Moines, back royale (Photo by Gary Krambeck, courtesy of the Moline Dispatch Publishing Company.)
In the first heats, nearly every skater used every single of the 15 minutes for their runs. Yeah, 15 minutes seems like a long run, but everyone had at least one more trick after time ran out. Everyone pulled.
By the time the second round came around, the horrible sun and heat were taking their toll on everyone. So much shit went down that right now I'm struggling to separate it apart.
In the judges' huddle, we decided there were a lot of great talents throwing themselves on the course, sweating to near death and hucking themselves out there. Decisions like those are never easy and always dreaded.
In the end, we decided Bruce had the consistency, creativity, style, lines and overall power to take home the Golden Grindplate.
Second place went to Egon Naab of Chicago for using the whole course and spinning, flipping and going tech on every rail.
Egon Naab of Chicago, 360 front flip and Junior Terronez of East Moline, Ill. (Photo by Gary Krambeck, courtesy of the Moline Dispatch Publishing Company.)
Logan Clark was no surprise to be in the top three because he went big and technical, as always. If there were a fourth place, it would have gone to Brian Bruno of "Chiowa."
Best Trick went to Caleb "San Quentin" Smith of Pekin, Ill., for his 540 from the subbox to flat, a 10-foot drop. Two earlier attempts at 180s left him clutching his knees on the pavement.
As the storms of hell descended on the park, we rushed through a box comp. Other skaters crowned Bruno the champ. All I remember was that Andrew "Droid" Hall of "Hellsburg" did an AO negative citric acid. It's the only time I've ever seen one.
Then the fun really came. As the storm caused flooding across Davenport, the winds ripped down tree branches and cut power to my apartment and Skate Church. Nothing says fun like 40 sweaty, wet, smelly, sunburn, tired and hungry bladers hanging out in the dark.
Once it stopped raining, we got some food — Bruce bought pizzas and grilled some burgers and hot dogs — and some of us spent the night and early morning drinking cheap beer on my patio. Around 2 a.m., we listed off our most influential skaters through the megaphone. My neighbors love me.
Patio Time
The last time I hosted the Rumble in 2007, I gave my megaphone to Adam Morris for being such a positive force in Iowa rollerblading. This year it went to the always smiling, always down-to-skate Phil Austin of Iowa City.
I'd really like to thank everyone who came to the Rumble. Whether you competed or not, your presence at events like these is integral to rollerblading and keeping Iowa a strong, close-knit scene. Thanks for putting in the time on the road and money in the tank. I hope everyone had fun.
Huge thanks go out to all the sponsors — Rat-Tail, Sunshine, Integrated, Eulogy, and eRolling.
Thanks to Corey Buller of Lincoln, Neb., for making the funniest comp T-shirts ever.
Buller's creation
Special huge thanks go to Dr. Harvey Jack of Moline, Ill., for giving out free chiropractic adjustments, DJ Ryan Scannura for offering up his talents for free, and Ryan Collins for donating bomb salsa and attempting to grill despite the wrath of Mother Nature. Also thanks to the Skate Church family for giving refuge and Les Mooney for creating the poster and helping out all week.
And now for the awards:
- Fastest skater: Junior Terronez (2nd time winning that category)
- Farthest drive: Nebraska kids — Buller and Beau
- Most dressed like a megaphone: Spencer Smith
- Biggest let down: Codee Jennings not competing (hurt himself during the warm-up)
- First to pass out: Andrew "Droid" Hall
- Most missed: Five-way tie: Tien Chang, Jan-Michael Andresen, Adam Morris and the Gilpins
- Most likely to form a Tears for Fears cover band: Bales and Cheung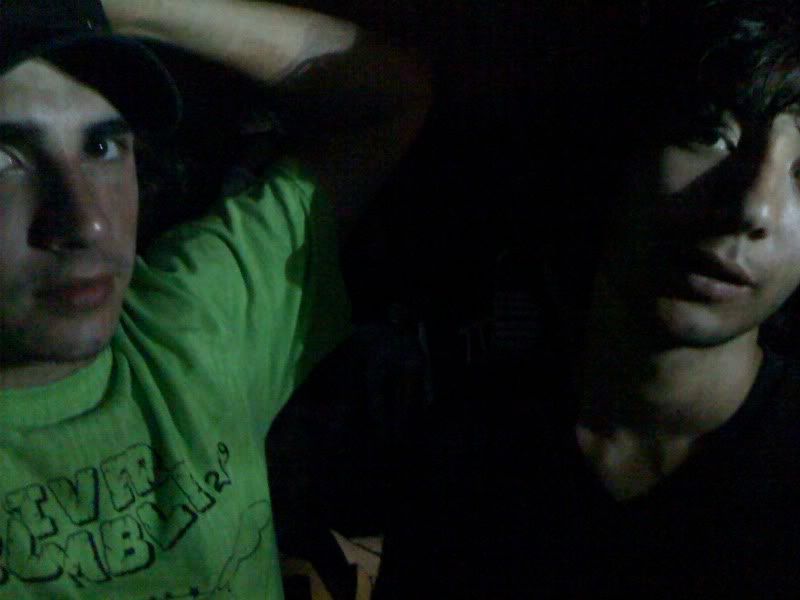 ---
---